We like music at Roy Creek Ranch, and some time ago I decided to get one of my pianos rebuilt.  There are two pianos here, an 1893 Weber (originally purchased at the Columbian Exposition in Chicago, 1893 — but that's another story) and a 1927 Baldwin "C".  Both had seen better days, and I had been contemplating getting one of them updated.  The process is long and very expensive, and the plan had been years in the making.  Finally, in March of this year, a slot came open in the rebuilder's schedule, and we sent the Baldwin off for a six month month stay at the "spa".
Originally, I was going to have the Weber rebuilt since I had "won" it in a Concerto Competition and it had considerable nostalgic value, but the process of finding a temporary replacement while it was away had ended with the purchase of the Baldwin.  You see, it's not easy to rent a grand piano — the dealers really want you to buy one.  A lucky break uncovered the used Baldwin — originally a very fine piano.  Since it was newer, had a more modern action, needed the least amount of work, and was probably a better instrument overall, it moved to the head of the line.  Off to Bernard Mollberg's shop.
It needed extensive work: new strings, hammers, dampers, action, and pin block.  New keys and key tops as well.  About the only thing I didn't have done was a complete refinish of the case.  It still looked ok, with what I would call "age-appropriate" wear.  I was able to visit the shop from time-to-time, and see the work as it progressed.
The first step was to remove the action and lid, and then remove the strings, plate, and pin block.  Although
an estimate had been made, it's hard to tell exactly what work will be needed until the project is underway.  I got some good news right away — the soundboard was still crowned with no penetrating cracks, and with a re-finish, it would be just fine.  The next time I visited, it had been sanded, the bridges had been re-shaped and new bridge pins had been installed.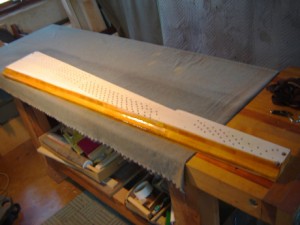 I wasn't able to visit every week, and would have missed some of the milestones if Bernard hadn't been kind enough to send a few pictures every now and then.  The next big steps involved shaping a new pin block, and cleaning and re-painting the plate.  It was great to see progress!
Meanwhile, another technician was working on the action.  Initially, I imagined keeping the existing keys, thinking they could be cleaned up and reshaped.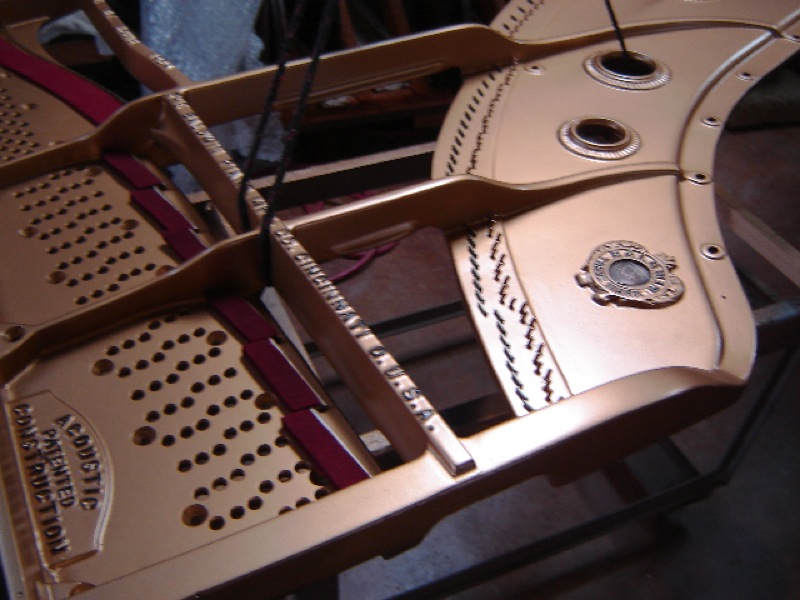 Bernard recommended complete replacement with plastic key tops since the existing keys had big gaps, they had a fair amount of side-to-side movement and weren't real ivory anyway.  I hadn't realized that they were an early plastic — celluloid.  Besides, by starting over, the keyboard could be rebalanced and when combined with new, modern whippens and other parts, a great action would result.  Trusting his recommendation, I agreed.
Several more weeks passed, and I learned that the piano had been re-assembled.  With the strings and action installed, it was nearly playable, and the work of tuning and regulation had begun.  I decided to visit the shop and was rewarded with my first look at the now-gorgeous piano.  The other techs who were working on it seemed to think it was going to be a really fine instrument — music to my ears.
Two more weeks, and a call from Bernard advising me that the piano was nearing completion.  Could I come by and check the work?  We made arrangements, and I waited (impatiently) for the appointment.
As I drove out that day, I wondered what I would encounter.  It had been nearly six months, and the anticipation was intense.  Was it worth all the time and expense?  Would I end up with an instrument that would inspire me?.  No worries there.  As I played it, I was reminded of my experience as a piano performance major (I won't say how many years ago) on nine-foot concert grands that received attention from a piano tech each and every week.  Magic.  I now had an instrument that would stretch my abilities and sounded extraordinary.  A truly great piano!